Post sponsored by: http://www.youth-basketball-camps.com/basketball-camps-near-me.html (Youth Basketball Near Me) Find the best basketball training camp for your kids!
A 67 year-old man has been arrested at the Alicante-Elche airport when he picks up his suitcase with 2.2 kilos of cocaine paste hidden in a double bottom, after flying from Sao Paulo (Brazil) via Lisbon (Portugal).
The Civil Guard and the National Police have surprised the alleged trafficker in a joint operation, at three in the afternoon of last Wednesday, June 5, when he was required to suspect that he could carry narcotics in his luggage, after tracking him , informs the armed institute in a statement.
The traveler, with a German passport and resident in the city of Valencia, was monitored and followed by the agents until he collected his suitcase in the arrival hall of non-EU flights (customs area), at which point he was intercepted.
In a double bottom he carried two vacuum-packed plastic packages, in which a whitish pasty substance could be seen. He tested positive for cocaine with the drug detection reagent.
The suspect was arrested at the airport for an alleged crime against public health (drug trafficking) and has been placed in provisional detention, awaiting trial, decreed by the court of Elche.
In the operation, members of the Office of Analysis and Fiscal Investigation (Odaifi) of the Civil Guard of the airport of Alicante and of the Unit of Drug and Organized Crime (Udyco) of the provincial brigade of judicial police of the National Police of Alicante participated.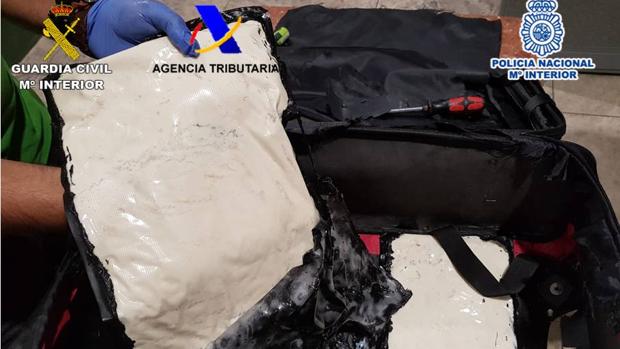 Source: ABC