Post sponsored by: http://www.emploitroisrivieres.com The Trois Rivieres Jobs site everybody is looking for to earn more money.
Statistically, the airplane is still much safer than other means of transportation, including the automobile. But the bad news that has haunted the airline industry in the last year and a half has certainly not helped to diminish the fear of many to fly.
More than 500 people died as a result of air accidents in 2018, for only 59 fatalities in 2017, according to statistics from the Aviation Safety Network.
And the number of deaths recorded as of July 1 of this year through this specialized portal now totals 212, including private and commercial flights. Even with these figures, however, the chances of dying in a plane crash remain extremely low: from 1 in 1.3 million in the worst case, according to the calculations of MIT professor Arnold Barnett.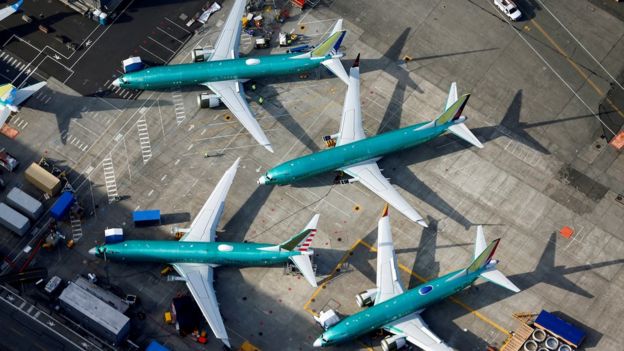 But the odds are further reduced in places like the United States, the European Union and even China, where, on average, and according to Barnett's estimates, one can take a plane daily for 90,000 years before being involved in a fatal accident. .
And that's what Am I Going Down is betting on? ("Am I going to collapse?") One of the increasingly numerous applications to combat aero-phobia available for mobile.
The app, available on iTunes at a cost of US $ 2.99, calculates the accident probabilities of 10 million specific routes, hoping that the information has a reassuring effect.
After all, what reason do you have to worry about the turbulence of the American Airlines flight between Heathrow Airport in London and San Francisco when Am I Going Down? estimate the accident probabilities in 1 in 3.646.151?
"You can expect a fall if you take this flight every day for 9,899 years", is your reassuring message.
"Therapist on board"
Similar information is also available in the Valk Fear of Flying app , developed by the Valk Foundation of the Netherlands in collaboration with KLM, Air France, the University of Leiden and Schiphol Airport in Amsterdam.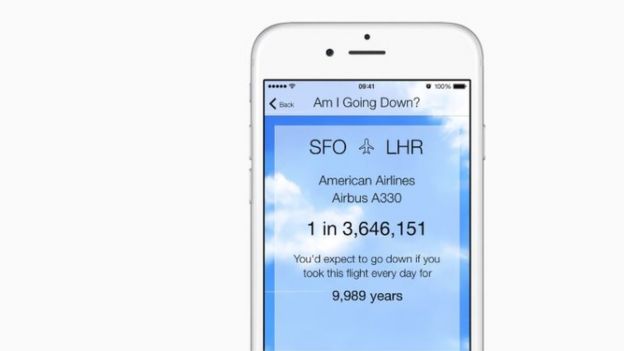 But the application – available for iOS for US $ 3.99 and for Android for US $ 4.79 – does much more. Conceived as a "personal flight therapist", Valk also offers predictions of weather and possible turbulence, as well as guiding the user through a series of exercises designed to combat stress.
And the application also includes a "panic button" that activates an automatic therapist that helps process the moments of greatest anxiety. Although, unfortunately, and as with the main applications to combat the fear of flying, it is not available in Spanish (although it is available in English, as well as in Dutch).
"With the captain next"
The idea that information can be reassuring is also at the base of SkyGuru, which offers its users a real-time explanation of what is happening on the plane.
The application, which can be downloaded for free, anticipates the weather and possible turbulence and offers advice and predictions about what can be expected from takeoff to landing.
And a paid version uses smart phone sensors to explain unfamiliar sounds, the maneuvers the plane performs and the sensations experienced during the flight.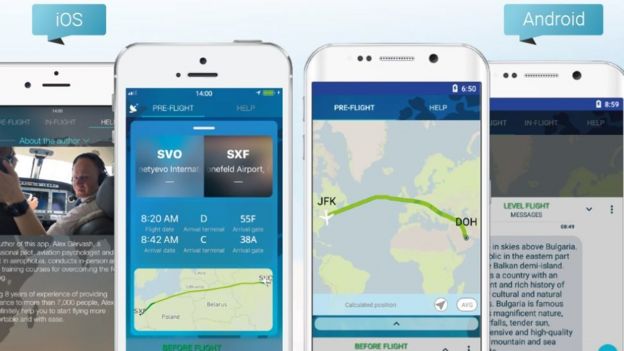 The experience is usually described in the reviews as "go sitting with the captain next to you".
But since it's only available in English (and Russian!), If you do not speak those languages ​​it does not make sense for you to pay the $ 19.99 that the full version costs.
A combination of these services can also be accessed via applications such as Turbcast (to anticipate turbulence), SOAR (in which a pilot explains everything there is to know about airplanes and flights) and Overcome the Fear of Flying ("Overcomes the fear of flying ", which offers a series of hypnotherapy sessions).
But if the language is a problem, a different option is ANA Take off Mode ("Takeoff Mode"), a free application that bets to distract you with immersive games so that you simply stop thinking that you are flying, taking off or landing.
Source: BBC