The X-37B unmanned space aircraft of the US Air Force landed on Sunday at NASA's Kennedy Space Center in Florida after spending a record 780 days in orbit doing I don't know what, At least for sure.
The objective of its fifth mission, called OTV-5, has been kept secret as the rest, although the authorities seem increasingly open to give details of the project and have recognized that it carries technological experiments and small satellites.
X-37B is a solar powered mini-plane built by Boeing and originally developed by NASA to serve as a technology test-bed for future reusable spacecraft and to perform operational experiments that can be returned and examined on the ground.
It is very reminiscent of a miniature version of a space shuttle, which is why it is popularly known as "Baby-shuttle."
The ship is almost 9 meters long, 3 meters high and 4.5 meters wide. Inside it fits, more or less, what can fit in a van.
His career has been identified several times by amateur astronomers, excited to hunt him in space.
Originally, the plane was designed to spend up to 240 days in orbit, but it has successfully exceeded that goal.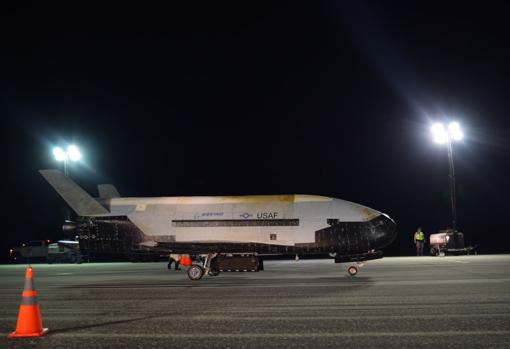 It was first released in coach Falcon 9 SpaceX on September 7, 2017, and since then it has completed five flights. The latter has been the longest.
With this successful landing, the OTV-5 mission broke the previous record of the OTV-4 mission, which spent 718 circling around the Earth until May 2017.
OTV-5 is the second X-37B mission to land on facilities from NASA after OTV-4. The previous missions ended at the Vandenberg Air Force Base in California.
"The sky is no longer the limit for the Air Force and, if Congress approves it, for the United States Space Force," said the chief of staff of the US Air Force, General David L Goldfein, in a statement.
The Air Force has at least two reusable X-37B spacecraft in its fleet, and both have flown several flights. "The X-37B continues to demonstrate the importance of a reusable space plane," said Air Force Secretary Barbara Barrett in the same statement.
"Each successive mission promotes the spatial capabilities of our nation," he added.
The exact nature of the X-37B missions are classified, but officials have talked about the type of experiments that OTV-5 performed in orbit. For example, the ship carried a structurally advanced integrated thermal spreader on board, an experiment designed to "test experimental electronics and oscillating heat pipe technologies in the space environment."
On this occasion, X-37B also flew into an orbit of greater inclination than previous flights, suggesting that it was testing new technologies, according to Space.com.
Apparently, "X-37B successfully completed all mission objectives," said Randy Walden, director of the Air Force Quick Capacities Office. Among them, "provide a ride for small satellites"
"This spacecraft is a key component of the space community. This milestone demonstrates our commitment to conduct experiments for the future space exploration of the United States," said Lt. Col. Jonathan Keen, program manager X-37B, in the same statement.
Source: ABC